Light steel structure prefab tiny house .
Product Detail
Product Tags
With traditional methods, it is common for builders to factor in up to 20% material wastage in the total cost of a project. Adding this up over consecutive projects, wastage can be equivalent to as much as 1 building out of every 5 buildings constructed. But with LGS waste is virtually non-existent (and in the case of a FRAMECAD Solution, material wastage is less than 1%).
And, steel is 100% recyclable, reducing the overall environmental impact of any waste created. Additionally, LGS is a 'dry' system, which means there is no need to use (often limited) water resources for mixing cement or other materials.
To build a LGS prefabricated house is good to enviroment , durable , and saving buidget .
- Good offers on you option to panelize your walls or truss to a certain degree to make your houses more cost-effectively to save you the whole construction period
II. The main Material to build the LGS house.
III. The steel frame stud .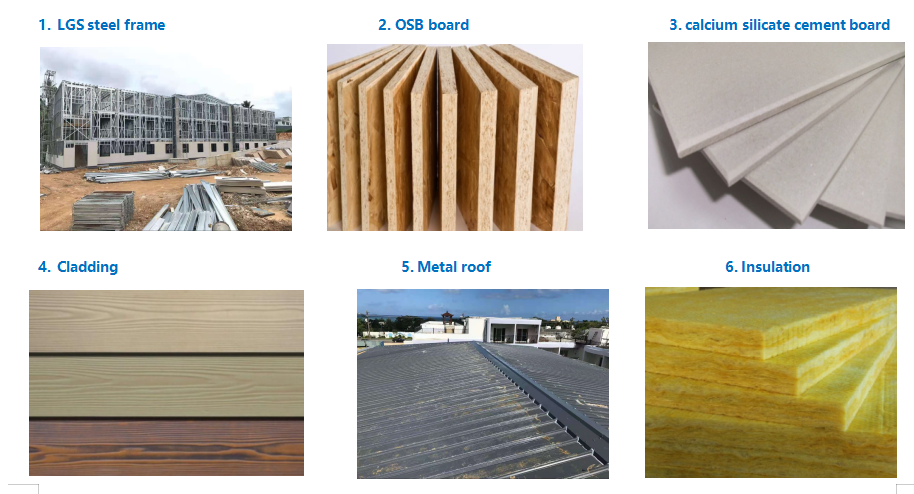 ---
---
Write your message here and send it to us
Related products
Light steel framing prefabricated house introduction . 1. It's faster The LGS system supply frames pre-assembled, strong and straight, and clearly identifiable. No on-site, welding or cutting is normally required. This means that the erection process is fast and simple. Shorter construction times result in reduced hard costs of your projects. 2. It;s easier to build .  Highly-skilled labor on-site is not needed. We use professional sofewar to make the design ,  pre-engineered steel fram...

WHY STEEL FRAMES TO MAKE HOUSE ? STRONGER, EASIER, MORE COST EFFECTIVE Better for you and the environment Precision engineered steel frames, fabricated to the highest standards, Prefabricated Up to 40% faster to construct Up to 30% lighter than wood Up to 80% saved in engineering fees Cut to precise specifications, for more accurate construction Straighter and easier to assemble Stronger and more durable Construct residential homes up to 40% faster than traditional methods ...

Advantages of steel framing * Steel studs and joists are strong, lightweight, and made from uniform-quality material. Steel walls are straight, with square corners, and all but eliminate pops in drywall. This virtually does away with the need for costly callbacks and adjustments. * Cold formed steel is coated to protect rusting during the phase of construction and living. Hot-dipped zinc galvanizing can protect your steel framing as long as250 years * Consumer enjoy steel framing for fire saf...